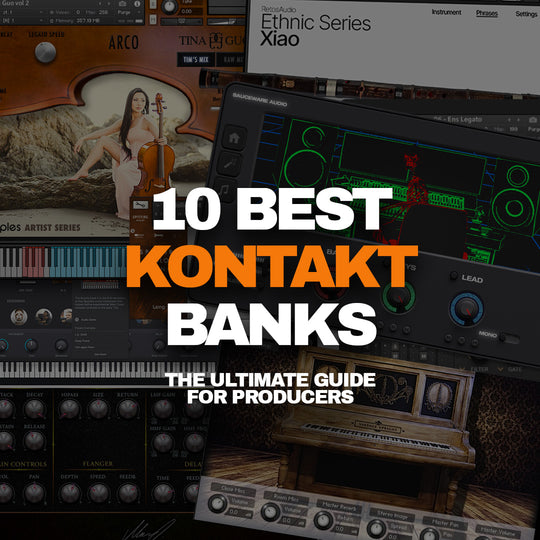 10 BEST KONTAKT BANK LIBRARIES 2024
Are you tired of the same old Kontakt libraries and banks? Looking to spice up your music production game in 2024? Well, look no further! We've compiled a list of the 10 best Kontakt libraries and banks that will elevate your sound and take your music to the next level. Whether you're into pianos, strings, brass, or more experimental sounds, we've got you covered.
TRIFECTA
3 Sounds In EVERY Preset
TRIFECTA is the ultimate Kontakt library bank, combining bass, keys, and lead sounds in EACH preset. Say goodbye to searching for the right sounds – now you can create complete loops with just one preset. Built for modern rap / hiphop producers.
Standout Features:
3 Presets in 1: Individually manipulate each preset.
Real-time Reverse: A first in instrument plugins.
Half-Speed Option: Another TRIFECTA exclusive for real-time sound manipulation.
Free Bonuses included: Drums, MIDI, Sample, Accents & Phrases
Highlights:
Triple-Threat Sound Selection: Enjoy cohesive bass, chord, and melody sounds in every preset.
Effortless Workflow: Instantly access three cohesive sounds, speeding up your creative process.
Built-In Effects: TRIFECTA offers real-time reverse, half-speed, and other effects, no external plugins needed.
Layered Presets: Save time with combined bass, leads, and keys in each preset.
Built-In Chord Generator: Play full chords with one finger, no music theory needed.
Simple UI: Designed for ease, TRIFECTA suits producers of all levels.
Industry-Quality Sound: Crafted by platinum billboard charting producers and top sound designers. works with Native Instrument software and products, perfect for MIDI controllers.
Why TRIFECTA?
It's your all-in-one beat-making solution, simplifying and accelerating the music production process. TRIFECTA brings a trifecta of sound selection, effects, and ease of use to rap producers.
Get TRIFECTA Here: https://saucewareaudio.com/products/trifecta
Session Horns Pro
Timeless Brass Brilliance
Session Horns Pro emerges as a classic choice for crafting brass melodies. Whether you're aiming for Wheezy's modern touch or Young Thug's signature style, this Kontakt bank is a versatile powerhouse that stands the test of time. Recommended Styles: Wheezy, YSL, Young Thug
Fairy Tale Flute
Enchanting Melodies Unleashed
Fairy Tale Flute by Marcus Sisker Sampled Instruments. A perfect fit for injecting whimsical and enchanting flute phrases into your compositions. Uncover the magic in your music with this Kontakt bank, offering a unique sonic palette for fantasy-inspired soundscapes.
8Dio Liberis Choir
Celestial Voices for Your Productions
8Dio Liberis Choir is the go-to Kontakt bank for those seeking the celestial charm of children's choirs. Elevate your tracks with the majesty of realistic choir sounds, making it an essential tool for creating ethereal atmospheres.
Sonuscore Tina Vol 2
Expressive Violin Phrases
SonoScore Tina Vol 2. This Kontakt bank offers a treasure trove of expressive violin phrases, providing a unique touch to your compositions. Say goodbye to the ordinary and embrace the elegance of Tina Vol 2.
Spitfire Solo Violin
Virtuoso Strings Unleashed
Continuing our journey, we encounter Spitfire Solo Violin, an exceptional Kontakt bank for those craving virtuoso solo violin performances. Dive into the intricate details and unparalleled expressiveness that this bank offers, making it a top choice for realistic string sections.
Vintage Upright
Timeless Piano Vibes
Vintage Upright brings timeless piano vibes to the forefront. Ideal for vintage R&B enthusiasts, this Kontakt bank remains shrouded in mystery regarding its creator but unveils a rich palette of warm tones for a classic, soulful touch.
Retos Audio - Ethnic Series Xiao
Versatile Ethnic Sounds
Explore the diverse world of ethnic sounds with Retos Audio Ethnic Series Xiao. Offering presets for different instruments and phrases, this bank is a treasure trove for creating unique and culturally inspired samples. Dive into the Legato, Staccato, and Vibrato presets to add authenticity to your compositions.
Analog Lab Banks
Synth Heaven Explored
Venturing into the realm of Analog Lab Banks, from Noah Cusses' Antimatter to the Kill September Banks, these Analog Lab presets offer a rich palette of sounds to add depth and character to your compositions.
Loophole Banks
Sonic Surprises Unveiled
Concluding, we delve into the Loophole Banks, offering a collection of presets that bring unexpected sonic surprises. A wildcard pick, these banks inspire creativity and push the boundaries of your musical creations.
Embark on a sonic journey with these Kontakt banks. From enchanting flutes to celestial choirs, virtuoso strings, and beyond, these Kontakt revelations promise to elevate your music production game. Unleash your creativity and redefine your sonic palette with these hidden gems.
Happy producing!